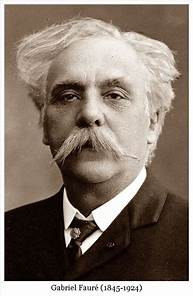 Composer: Gabriel Faure
Born: May 12, 1845 – Pamiers, Ariège, Midi-Pyrénées, south of France
Died: November 4, 1924 – Paris, France:
Gabriel Urbain Fauré was a French composer, organist, pianist and teacher. He was one of the foremost French composers of his generation, and his musical style influenced many 20th century composers.
Below are the Soprano voice parts. Click on each to listen. Your voice part will be enhanced, and you will hear other voice parts in the background to help you.